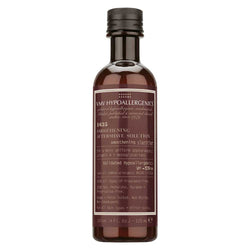 VMV Hypoallergenics
1635 Smoothening Aftershave Solution
For a more uniform appearance; vitamin A + monoglycerides.
Contains an ideal combination of actives and reparative skin soothers to effectively treat acne and bumps without drying or irritating skin, including:
An effective anti-acne and anti-aging vitamin A derivative— Retinyl Palmitate, a biologically active and more stable version of Retinol.
Witch Hazel for anti acne, sebum regulating, anti inflammatory benefits; also, reduces pore size and decreases skin puffiness.
Multiple coconut oil-derived triglycerides for antimicrobial and anti-inflammatory benefits.
Multiple reparative antioxidants: vitamin C, green tea, yerba mate, and rice phytic acid.
Helps prevent irritations. Will not cause acne or bumps. 
For All Skin Types + Oilier Skin Types.
VH-Rating

VH -109/109

sans all common allergens, extended allergen series: North American Contact Dermatitis Group + European Surveillance System on Contact Allergies.

100% All-Types-OfFragrance-Free.

100% Dye, Phthalate, Paraben + Preservative-Free. Usage + Patch Tested.

Non-Drying. Non-Comedogenic.

Click here to read more about our VH Rating System

To Use

With hands or cotton, apply over shaved areas (and/or rest of face). Avoid mucosal (wet) areas of eyes, nostrils + mouth.

Best Results:

Use with our prevention + active treatment products.

Notes:

Before using any product, test a tiny amount of it on skin (we omit allergens, but you may be sensitive to an ingredient that is not an allergen). Introduce new products one at a time, with at least 3 days in between, to make sure you're not allergic.

Important:

For external use only on specified areas as directed. Do not store in extreme heat or cold, or in direct sunlight. Do not return removed portions of product or introduce water or other substances into container. If contact with eyes occurs, flush out with plenty of water. Stop use and consult your doctor in the unlikely event of sensitivity. Keep out of reach of children. While safe for its intended use, ingesting large amounts of this product is potentially harmful. If large quantities of this product are ingested, get medical help right away.

PREVENTION IS IMPORTANT: For best results, make sure you are practicing proper prevention with Essence Skin-Saving Hair, Body + Bath Care, Skintelligent Beauty and our other products. CYSTIC ACNE.. can be internally caused. If you have cystic acne, consult your dermatologist as you may need medication and/or other management.

Ingredients

Alcohol, Aqua/Water/Eau, Glycerin, Butylene Glycol, Camellia Sinensis Leaf Extract, Ilex Paraguariensis Leaf Extract, Hamamelis Virginiana Water, Glyceryl Laurate, Triethanolamine, Citric Acid, Caprylic/ Capric Triglyceride, Retinyl Palmitate, Hydrogenated Lecithin, Cholesterol, Ascorbic Acid, Glyceryl Caprate, PEG-40 Castor Oil.
Customer Reviews
Best shaving cream ever!
Best shaving cream ever!