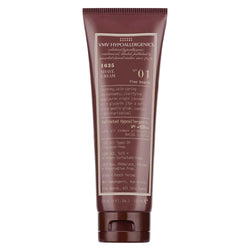 VMV Hypoallergenics
1635 Shave Cream No. 1 Fine Beards
For Fine Beards: Lightweight and very supple.
Contains:
Soothing, reparative antioxidants: green tea, yerba mate, and rice phytic acid.
Virgin coconut oil plus glycerin for incredible moisturization, excellent glide, and razor burn prevention.
Softening, calming, anti-bump, anti-acne monolaurin
Helps prevent irritations. Will not cause acne or bumps.
VH-Rating

VH -109/109

100% All-Types-Of-Fragrance-Free.

100% Free of Dyes, Phthalates, Parabens + Preservatives. Gluten-Free.

100% SLS, SLES + Allergen-Surfactant-Free.

Non-Comedogenic. Usage + Patch Tested.

Click here to read more about our VH Rating System

To Use

Wet beard.

Squeeze out enough shave cream to cover beard.

Work between palms then massage well over beard.

Shave as normal, in direction of hair growth.

Rinse blade frequently with running water to prevent razor clogging.

Rinse face well with water.

Best Results:

Shave after a warm bath/shower.

Notes:

Before using any product, test a tiny amount of it on skin (we omit allergens, but you may be sensitive to an ingredient that is not an allergen).

Introduce new products one at a time, with at least 3 days in between to make sure you're not allergic.

Do not store in extreme temperatures (heat or cold), or in direct sunlight.

Do not (re)introduce removed portions of product, water or other substances into product.

As with all things skin, consult your dermatologist.

Important:

For external use only on specified areas as directed.

Stop use + consult your doctor in the unlikely event of discomfort or sensitivity.

If contact with eyes occurs, flush out with plenty of water.

Keep out of reach of children. While safe for its intended use, ingesting large amounts of this product is potentially harmful. If this happens, get medical help right away.

Ingredients

Butylene Glycol, Aqua/Water/Eau, Cocos Nucifera (Coconut) Oil, Glycerin, Potassium Cocoyl Glycinate, Glyceryl Stearate, Paraffin, Disodium Laureth Sulfosuccinate, Camellia Sinensis Leaf Extract, Stearyl Alcohol, Stearic Acid, Glyceryl Laurate, Glyceryl Caprate, Ilex Paraguariensis Leaf Extract, Triethanolamine, Sodium Phytate.
Customer Reviews
As I have contact dermatitis
As I have contact dermatitis I need to be very careful of whatever touches my skin and this product is the only one I've found so far that seems to be safe - a huge Plus. In addition it acts as a skin cleansing agent as well so saves time and the necessity of another product. My one "negative" is that I miss the lather of my former shave cream, but in reality it may be a small price to pay and I will get used to it.
Allergies stopped within days of
Allergies stopped within days of using these products
This product is excellent! My
This product is excellent! My husband gets a nice close shave and real soft skin.