Customer Reviews
Write a Review
Ask a Question
Filter Reviews:
skin
products
face
order
husband
glow
clarity
07/25/2020
Josephine C.
United States
Holy Grail!
These products are effective! I can see my skin glowing the next morning every time I use these products. I can also see my husband's neglected and sun damaged skin come alive because of the clarity and youthful glow these products bring to his face. It's in one of my staple products and I wish this set can be a recurring order. It's definitely worth it!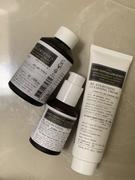 These products do just as
These products do just as they are advertized to do.
Skin saver!!! Thank you VMV
Skin saver!!! Thank you VMV :)
I have emailed this almost
I have emailed this almost a week ago as soon as I received the damaged parcel. Response time to deal with issues was supposedly 48 -72 as claimed by the auto reply email. Up to this point NO RESPONSE of anything nobody has even bothered to acknowledge it except for the so called "auto reply". It sucks to see a great product be mismanaged by irresponsible distributors. I want a refund rather than deal with them. Hi! From Canada here, I just got my Re-everything Regimen Trio at the mail. Noticed stains on the box. Took a peek and confirmed - åÊbottled items have been shattered thru. Please send a replacement set. I discarded the whole box due to safety concern.åÊ May I suggest that the packaging be modified for parcel delivery. I admire how environmental friendly VMV åÊhas been to the smallest detail. But this should have been given a careful thought knowing it will travel overseas. Certainly bubble wrap may not be sensible but maybe recycled cardboard fillers/confettis. Or boxing the bottles individually, before putting in a single parcel.åÊ I have been looking forward for this parcel as I am just bridging thru inferior replacements. Hoping for a speedy resolve on this matter. And an appropriate parcel packaging solution for you guys. Thank you! åÊ PS: attaching photo of actual parcel unboxing.åÊ Any 1800 customer service phone number to reach you out? Thanks again.åÊ
06/16/2016
VMV Hypoallergenics
Hi Nancy! Thanks for writing in! We sincerely apologize for the delay in getting back to you! We are currently beefing up our systems, resources and team to make sure we can reply far more promptly in the future. As well, we apologize that the Re-Everything Set: Anti-Aging Regimen Trio you received arrived damage. We notified our team and an investigation is already being done as we speak. To help them investigate, may we ask for the lot and batch codes of the product? (this is a series of numbers and letters usually found at the bottom of the box/bottle). We are looking forward to your response (but please know that a replacement product is now on its way to you via DHL. To check its status, please visit www.dhl.com and enter this tracking code: 1788332582. There is a ‰ÛÏtrack your shipment‰Û� portion at the right corner of the website. Enter your track code in the given space and click track. Again, we sincerely apologize and hope this has been helpful. Skincerely, VMV HYPOALLERGENICSå¨