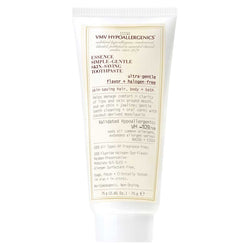 VMV Hypoallergenics
Essence Simple-Gentle Skin-Saving Toothpaste
Truly tender, skin-friendly, bump-free oral care.
Helps provide gentle teeth cleaning and oral care. With coconut-derived monolaurin. Helps manage the comfort and clarity of lips as well as skin around the mouth, and on chin + jawline.

VH-Rating

VH -109/109*

sans all common allergens, extended allergen series: North American Contact Dermatitis Group + European Surveillance System on Contact Allergies

100% All-Types-Of- Fragrance-Free;
100% Fluoride-Halogen-Dye- Flavor-Paraben- Preservative-Phthalate + Allergen Surfactant-Free. Usage, Patch + Clinically- Tested (in vivo + in vitro).
Non-Comedogenic. Non-Drying. Non-Irritating.

Click here to read more about our VH Rating System

To Use

Brush teeth as normal. NOTE: For children, ask use your pediatrician before use.
FOR BEST RESULTS: Avoid halogens in foods and other substances. Use with our Essence Hair, Body + Bath line, as well as our other clarity and prevention products.

NOTES: Before using any product, test a tiny amount of it on skin (we omit allergens, but you may be sensitive to an ingredient that is not an allergen). Introduce new products one at a time, with at least 3 days in between to make sure you are not allergic. Do not store in extreme temperatures or conditions, or in direct sunlight. Do not (re)introduce removed portions of product, water or other substances into product. As with all things ... Baby: consult your pediatrician; Maternity: consult your OB-GYN; Skin: consult your dermatologist.

IMPORTANT: For external use only on specified areas as directed. Stop use and consult your doctor in the unlikely event of discomfort or sensitivity. If contact with eyes occurs, flush out with plenty of water. Keep out of reach of children. While safe for intended use, ingesting large amounts of this product is potentially harmful. If this happens, get medical help right away.

Ingredients

Calcium Carbonate, Aqua/Water/Eau, Glycerin, Xylitol, Sorbitol, Disodium Cocoyl Glutamate, Sodium Cocoyl Glutamate, Chrondrus Crispus (Carrageen- an) Glyceryl Laurate, Calcium Lactate.