VMV Hypoallergenics
Grandma Minnie's Oil's Well Nurturing Do-It-Oil
Soother & softener for dastardly dry, very sensitive skin. Also a massage oil, hair detangler, ouchless "make-it-better" rinse & happy nappy salve. Oil-in-one must-have for mums & munchkins. 
A skincredibly versatile solution.
Two ingredients, countless uses.
USDA-certified organic virgin coconut oil for incomparable soothing + moisturizing (its fatty acids are native to skin, and it has natural antiviral properties, too).
Coconut-derived monolaurin for gentle-yet-powerful antibacterial disinfection.
Soothes, softens + salves even dastardly dry, sensitive, seborrheic, atopic skin.
Prevents diaper rash.
For hair detangling.
For massages.
Ouchless wound cleaning, too. Whew!
An oil-in-one must-have for mums & munchkins. Oil's well that ends well!
VH-Rating

VH -109/109

(Sans all common allergens North American Contact Dermatitis Group + European Surveillance System on Contact Allergies)

100% All-Types-of-Fragrance-Free

100% Dye, Phthalate, Paraben + Preservative-Free Usage, Patch + Clinically-Tested (Evidence-based, Double blind, Randomized)

For all skin types, even very sensitive skins. Pediatrician-Approved.

Non-drying. Non-comodegenic. For women, men + children ages 0+

Click here to read more about our VH Rating System

To Use

Daily or as needed, gently massage onto face, body, scalp and/or hair. Diaper Area: Promptly change wet/soiled diapers. Clean area with water-soaked cotton. Let dry. Often, at each diaper change + especially before bedtime, apply Oil where skin comes into contact with wetness. Make-It-Better Rinse: Directly or with cotton, flush out debris. Follow with The Big, Brave Boo-Boo Balm.

Notes:

Before using any product, test a tiny amount of it on skin (we omit allergens, but you or baby may be sensitive to an ingredient that is not an allergen). Introduce new products one at a time, with at least 3 days in between to make sure baby is not allergic. Do not store in extreme temperatures, or in direct sunlight. Do not (re)introduce removed portions of product, water or other substances into product. As with all things.. Baby, ask your pediatrician; Maternity, ask your OB-GYN; Skin, ask your dermatologist.

During Active Flare-ups:

As skin can be sensitive even to plain water during flare ups, do not use this or any product on skin during an active flare-up: consult your dermatologist or wait until the flare-up subsides.

Important:

For use only on specified areas as directed. Stop use and consult your doctor if: condition worsens or does not improve within a few days; immediately if signs of infection appear; or in the unlikely event of discomfort or sensitivity. If contact with eyes occurs, flush out with plenty of water. Keep out of reach of children. While safe for its intended use, ingesting large amounts of this product can cause loose stools. While usually harmless and temporary, loose stools in infants should be reported to your doctor right away for monitoring.

Ingredients

Cocos Nucifera (Coconut) Oil, Glyceryl Laurate.
Customer Reviews
Write a Review
Ask a Question
Filter Reviews:
beach
coconut
silicone
feet
odor
smell
hand gel
everyday-purse
Minnie
lotion
10/07/2020
Jeanne D.
United States
Nice Product…But
Nice product but the packaging is a fail. First, it's almost impossible to read the label. The print is BLUE and tiny. Second, the product is solid, which is okay, but difficult to scoop out of a bottle meant for liquid. Yes, I've read, heat it up to a liquid, but that's way too much work. The product itself is very nice. Hope VMW takes a serious look at repackaging this item.
08/15/2020
Josephine c.
United States
A must have!
I am subscribed to the big bottle and it's in my everyday-purse along with my grandma Minnie hand gel which I am also subscribed to. The product is absolutely the best! It is moisturizing and non-greasy without the strong coconut smell! It has helped my very dry hands and feet. I lather it on my hands and feet then I lock it in with a lotion that contains a little bit of silicone. Sometimes when I feel very dry, like after a long day at the beach, I lather it all over my body and face before going to bed. I don't like the smell of coconut because it gives me a headache. However, this product has soothing and pleasant odor which lathering it on skin makes it quite therapeutic!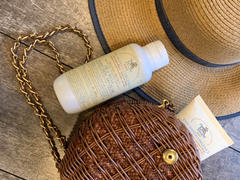 08/14/2019
Meeland P.
United States
The best vco in the world!
Have been using it for years already while in the Philippines and is the ONLY VCO thats the best!
Really good hydration, nutrition and looks
Very gentle, a little bit goes a long way, I think you cannot go wrong with this. I use it with the lotion or with another face moisturizer. My skin feels very good and looks great after I use this oil: softer and lighter .
Great product!
Great product!