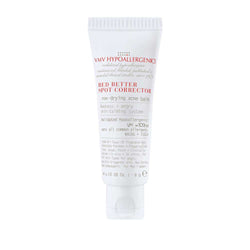 VMV Hypoallergenics
Red Better Spot Corrector
A uniquely non-irritating, non-drying (even soothing + hydrating!) acne balm for ultra-sensitive skin with coconut-derived monolaurin, salicylic acid, antioxidants, silicones, and other skin-calming ingredients.
VH-Rating

VH -109/109
sans all common allergens, extended allergen series: North American Contact Dermatitis Group + European Surveillance System on Contact Allergies
100% All-Types-Of-Fragrance-Free.
100% Dye, Phthalate, Paraben + Preservative-Free. Usage, Patch + Clinically Tested (in vivo + in vitro). For All Skin Types; for angry, quickly-triggered skin.
Non-Drying. Non-Comedogenic. For Men + Women.

Click here to read more about our VH Rating System

To Use

As needed, apply a tiny dot on affected areas and spread gently. If condition continues or worsens, see a dermatologist. Prevention with our Red Better line + our hair/body/bath care is important.

NOTES:

Before using any product, test a tiny amount of it on skin (we omit allergens, but you may be sensitive to an ingredient that is not an allergen). Introduce new products one at a time, with at least 3 days in between. Do not store in extreme tempera- tures. Do not (re)introduce removed product or other substances into container.

IMPORTANT:

For use only on specified areas as directed. If contact with eyes occurs, flush out with plenty of water. Stop use + consult your doctor in the unlikely event of discomfort or sensitivity, or if condition does not improve, or immediately if signs of infection appear. Keep out of reach of children. In case of ingestion: get medical help right away.


Ingredients

Aqua/Water/Eau, Butylene Glycol, Cetearyl Alcohol, Ceteareth-25, Glyceryl Stearate, C12-15 Alkyl Lactate, Cyclopentasiloxane, Camellia Sinensis Leaf Extract, Salicylic Acid, Sulfur, PEG-30 Castor Oil, 1,2-Hexanediol, Caprylyl Glycol, Sodium Phytate.