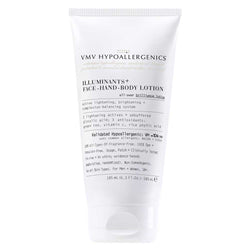 VMV Hypoallergenics
Illuminants+ Face, Hand & Body Lotion
Clarifying, brightening, pigment-managing therapy for body skin. Has 2 tyrosinase inhibitors, 3 reparative antioxidants, therapy-enhancing + skin-renewing microdermabrasion.
Helps clarify dark spots + patches, and clarifies dark spots/patches from aging, sun/light damage, melasma, photoallergies, inflammations (rashes, acne, insect bites) + other hyperpigmentations.
Gentle enough for use as an interim facial moisturizer when slowly increasing application frequency of Illuminants+ Creams.
Restored, notably more radiant, tone-balanced skin from head to toe.
Gives body skin a vibrant, even-toned glow.
Brightens skin beautifully. Results in clearer, tone-balanced skin that looks younger, notably more vibrant + radiant due to lighter, healthier cells.
Lightening/Brightening: kojic acid plus bearberry leaf-&- vitamin C complex.
Lit Skin: 3 antioxidants - vitamin C, green tea, rice phytic acid = a triad of free radical fighters. Repairs damage from sun + other environmental, oxidizing agents that produce a duller epidermis + dermis - leading to "lit" skin.
Penetration: A common problem of lightening therapy is getting the active ingredients deep enough in the skin to be effective. Unbuffered (undiluted) glycolic acid deposits the tyrosinase inhibitors deeper in the skin while also forcing newer, brighter, healthier cells to the skin's surface.
Plus intensive hydrating glycerin.
VH-Rating

VH -104*/109

100% All-Types-Of-Fragrance-Free.

100% Dye-Phthalate-Paraben + Preservative-Free. Gluten-Free. Non-Comedogenic.

All Skin Types. Usage, Patch + Clinically-Tested. For Men + Women 18+.

Click here to read more about our VH Rating System

To Use

Massage a generous amount over neck, chest, arms, elbows, legs, knees + other external body skin. Can also be used on face as an interim moisturizer between applications of Illuminants+ Creams when increasing usage frequency at the start of therapy. Reapply as often as desired or needed. Note: Avoid mucosal (wet) areas of eyes, nostrils + mouth.

Follow with an Armada Sun + Light Screen on face and other exposed skin every day, whether indoors or outdoors, and whether or not the Illuminants+ Lotion has been applied on a given day. Apply liberally every day before sun exposure, both indoors and outdoors, carefully avoiding membranous areas of eyes and nostrils. Blend well. When outdoors, reapply at least every 1 to 2 hours, after swimming, sweating, and towel drying.

Sunburn Warning: This product contains an alpha hydroxy acid (AHA) that may increase your skin's sensitivity to the sun and particularly the possibility of sunburn. Use a sun-screen, wear protective clothing, and limit sun exposure while using this product and for a week afterwards.

Notes:

Before using any product, test a tiny amount of it on skin (we omit allergens, but you may be sensitive to an ingredient that isn't an allergen).

Introduce new products one at a time, with at least 3 days in between to make sure you are not allergic.

Do not store in extreme temperatures, or in direct sunlight.

Do not (re)introduce removed portions of product, water or other substances into product.

As with all things skin, consult your dermatologist.

Important:

For external use only on specified areas as directed.

Stop use + consult your doctor in the unlikely event of discomfort or sensitivity.

If contact with eyes occurs, flush out with plenty of water.

Keep out of reach of children. While safe for its intended use, ingesting large amounts of this product — as unattended children may do — is potentially harmful. If large quantities of this product have been ingested, get medical help right away.

Ingredients

Aqua/Water/Eau, Glycerin, Cetearyl Alcohol, Ceteareth-25, Glyceryl Stearate, Cyclopentasiloxane, Tromethamine, Glycolic Acid, Triethanolamine, Glyceryl Laurate, C12-15 Alkyl Lactate, Butylene Glycol, Glyceryl Caprate, Arbutin, Magnesium Ascorbyl Phosphate, Sodium Benzoate, Sodium Phytate, Camellia Sinensis Leaf Extract, Sodium Metabisulfite, *Phenoxyethanol, Palmitoyl Hydroxypropyl Trimonium Amylopectin/Glycerin Crosspolymer, Kojic Acid, Hydrogenated Lecithin, *Methyl Paraben, *Ethyl Paraben, *Butyl Paraben, *Propyl Paraben.