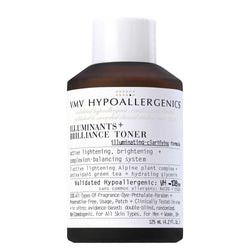 VMV Hypoallergenics
Illuminants+ Brilliance Toner
An effective tone-balancing, brightening, deep-cleaning toner for all skins. With 7 active botanical ingredients.
Removes skin-dulling dirt after cleansing.
Clarifies overall complexion, leaving skin looking noticeably brighter, tone- balanced, more radiant, and vibrant.
For maximized efficacy: use with an Illuminants+ Cream and an Armada Sun + Light Screen.
VH-Rating

VH -108/109*

sans common allergens: extended allergen series North American Contact Dermatitis Group + standard allergen series European Surveillance System of Contact Allergies System of Contact Allergies

100% All-Types-Of-Fragrance-DyePhthalate-Paraben + Preservative-Free. Usage, Patch + Clinically-Tested (in vitro + in vivo; evidence-based: double-blind, randomized).
Non-Comedogenic. Non-Drying. For All Skin Types. For Men + Women, 18+.

Click here to read more about our VH Rating System

To Use

Moisten (do not soak) cotton applicator with Toner and swipe gently over face, neck + chest. Avoid mucosal (wet) areas of eyes, nostrils + mouth. Daytime: Follow with Armada Sun + Light Screen, whether indoors or outdoors, and whether or not this product was applied on a given day. IMPORTANT: Start using 2x-a-week only. Very slowly increase to 3x-a-week, then 1x-every-other-day, etc. until you achieve 2x-a-day usage (no earlier than week 8 of therapy). DO NOT RUSH. See Application Frequency Guide on side panel of this box

Therapy Notice: Some first-time users of Illuminants+ may experience an initial reaction of a slight redness or mild stinging. With correct use - slowly increasing application frequency, using hypoallergenic support products, and following all instructions carefully - this initial reaction quickly disappears. If stinging and redness persists, stop use for one week, and restart therapy at the beginning, with 1x-a-week applications.

Notes:

Before using any product, test a tiny amount of it on skin (we omit allergens, but you may be sensitive to an ingredient that isn't an allergen).

Introduce new products one at a time, with at least 3 days in between to make sure you are not allergic.

Do not store in extreme temperatures or in direct sunlight.

Do not (re)introduce removed portions of product, water or other substances into product.

As with all things skin, consult your dermatologist.

Important:

For external use only on specified areas as directed.

Stop use + consult your doctor in the unlikely event of discomfort or sensitivity.

If contact with eyes occurs, flush out with plenty of water.

Keep out of reach of children. While safe for its intended use, ingesting large amounts of this product - as unattended children may do - is potentially harmful. If large quantities of this product have been ingested, get medical help right away.

Ingredients

Alcohol, Aqua/Water/Eau, Glycerin, Malva Sylvestris (Mallow) Extract, *Mentha Piperita (Peppermint) Leaf Extract, Primula Veris Extract, Alchemilla Vulgaris Extract, Veronica Officinalis Extract, Melissa Officinalis Leaf Extract, Achillea Millefolium Extract, Citric Acid, Butylene Glycol, Camellia Sinensis Leaf Extract.