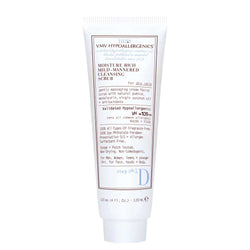 VMV Hypoallergenics
Moisture Rich Mild-Mannered Cleansing Scrub for Dry Skin
Smooth, well-mannered pumice grains in a moisture-rich, lubricating cream for an invigorating yet delicate cleansing that gently massages dry skin to a pristine glow. Mild exfoliation keeps dry skin clean and bright.
VH-Rating

VH -109/109
sans all common allergens, extended allergen series: North American Contact Dermatitis Group + European Surveillance System on Contact Allergies

100% All-Types-Of Fragrance-Free.

100% Dye-Phthalate-Paraben Preservative, SLS + Allergen-Surfactant-Free. Usage + Patch Tested.

Non-Comedogenic. Non-Drying. For Men, Women, Teens + younger (9+).

To Use

2x-a-day, massage a small amount onto wet skin. Rinse well with water. NOTE: Do not rub vigorously or scrub any one area for longer than 1 to 2 seconds at a time —— a gentle massage is all you need.

Before using any product, test a tiny amount of it on skin (we omit allergens, but you may be sensitive to an ingredient that is not an allergen). Introduce new products one at a time, with at least 3 days in between to make sure you're not allergic. Do not store in extreme temperatures, or in direct sunlight. Do not (re)introduce removed portions of product, water or other substances into product. As with all things.. Kids: consult your pediatrician; Skin: consult your dermatologist.

Important:

For external use only on specified areas as directed. Stop use and consult your doctor in the unlikely event of discomfort or sensitivity. If contact with eyes occurs, flush out with plenty of water. Keep out of reach of children. While safe for its intended use, ingesting large amounts of this product is potentially harmful. If this happens, get medical help right away.

Ingredients

Aqua/Water/Eau, Cetearyl Alcohol, Paraffin, Glycerin, Glyceryl Laurate, Cocos Nucifera (Coconut) Oil, Butylene Glycol, Camellia Sinensis Leaf Extract, Pumice, Glyceryl Stearate, 1,2-Hexanediol, Caprylyl Glycol, Triethanolamine, Sodium Laureth Sulfate, Carbomer, Citric Acid, Sodium Phytate.